The Innisfail Show – 8th & 9th July 2021
Welcome to the Innisfail Show Society website. The show society hosts the Annual Innisfail Show in July each year and assists in the maintenance of the facilities of the Innisfail Show grounds. Our aim is to promote the district through the annual show and to maintain and develop the grounds for community use.
The highlights of the show each year are the judging of horses, cattle, poultry, art, needlework, cooking, horticulture, birds, fruit & vegetables, photography, bananas, papaw, sugarcane and woodwork.
The Showgrounds is the home for several community organisations.
Various other Community Groups hire the venue for Cattle events, Car Club events. Many private parties & functions are also catered for in the upstairs restaurant of the Russ Hinze Building.
BE COVID SAFE
Activities at the Innisfail Show will adhere to the COVID safe key principles so you will see a few changes. Please do your part to stay safe. Do not come to the show if you are ill or showing COVID symptoms, or have been in a COVID hotspot or travelled overseas in the 14 days prior to the show. Please follow physical distancing regulations during your time at the show.
Sideshow alley operates independently within the grounds and charges apply for participating in their activities. The Showmen's Guild of Australasia operate under their own COVID safe plan.
​Stallholders at the Innisfail Show will also be operating under their own COVID safe plans.
MORE INFO TO COME
---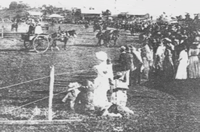 History of the Innisfail Show Society
For over one hundred years, the history of the Innisfail Show Society has reflected the culture, fortunes and interests of the town of Innnisfail and its people.
---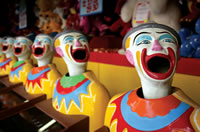 2021 Commercial Site Applications
The 2021 Site Application form is now available for download. Please note that total rental charges must be paid at the Secretary's Office by Friday, 28th May, 2021.
Click here 2021 Inside space contract Click here 2021 Outside space contract